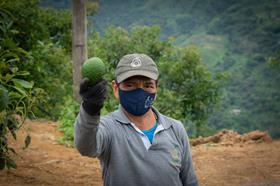 Green SuperFood (GSF) has set up a new European marketing and distribution arm, Farmers Home Europe, to supply Hass avocados from Colombia and Brazil to importers and retailers across Europe and Russia all year round.
Supported by a team based in the Netherlands, Spain, and Portugal, Farmers Home Europe will service existing GSF customers and expand retail, wholesale and foodservice sales throughout Europe, eastern Europe and Russia.
It aims to provide a more flexible logistics service which enables customers to receive fruit at their closest port of entry or local distribution platform. GSF said Farmers Home Europe has identified a number of local partners with whom it can become more integrated, minimise costs and streamline the supply chain.
GSF Colombia CEO Baptiste Kervyn commented: "Green SuperFood is a vertically-integrated grower of Hass avocados in Colombia and Brazil that expects to reach 1,800ha of production by 2023.
"We have our own advanced nurseries that focus on the research and innovation of healthy, sustainable plants from clonal seeds, which truly sets us apart from other fruit producers in the region."
Farmers Home Europe will also market other value-added products including limes, GSF's proprietary AvoInfusion tea, and soon-to-be launched products such as avocado purée, oil and guacamole.
Eventually it aims to supply its own grown fruit for almost 12 months of the year from Colombia and Brazil.
GSF said its fruit is grown according to the strictest global quality and food safety standards, including GlobalGAP and BRCS, and under responsible and regenerative production methods using the latest technology.
Kervyn said: "We are a planet-friendly company that takes pride in all the positive social impacts that we have on our local communities and the ecosystems with which we interact. With this in mind, we see that our customers with similar strong environmental and sustainable credentials will be our partners well into the future."
Farmers Home Europe will be officially launched at Fruit Attraction 2021, where it will exhibit jointly with GSF.
At the fair, the group hopes to raise awareness of some of the latest technological developments that it is pursuing in partnership with South American tech companies, such as Avocai, which is a harvest forecasting mobile application.
Visitors to the stand will be able to experience a virtual tour of GSF's farms, packhouse and nurseries, sample the company's new AvoInfusion tea and view its new packaging and branding.
GSF was founded in Colombia and Brazil during 2019 by a Chilean investment group. It owns around 3,500ha of land, of which roughly 50 per cent is reserved for the conservation of native forests.
In addition to exporting Hass avocados grown on its own farms and sourced from likeminded growers, the company is supplies Tahiti limes from Colombia and mandarins from Brazil. In the future, it says other tropical fruits may be added to its range.