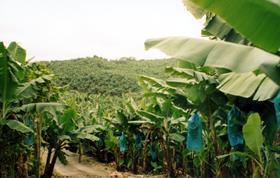 Organic certification is opening up to banana producers on the French West Indian island of Guadeloupe, who remain reliant on synthetic fungicides to stave off moisture-related diseases like black Sigatoka.
The Centre for International Cooperation in Agricultural Research for Development (CIRAD) and the Tropical Technical Institute (IT2) have been working to crossbreed varieties to obtain a banana that is resistant to such diseases and can withstand the journey to export markets, according to Campagnes & Environnement.
Approximately 20ha has been dedicated to the banana's production in Guadeloupe, expected to be marketed in 2020 under the name 'La Pointe d'Or' (a touch of gold).
Should consumers respond positively, these trials could spark a broader trend in the French West Indies, whose production accounts for 40 per cent of the French banana market.
Organic bananas cultivated on the Antillean island of Martinique have been available on French shelves since last year.
[This article was amended on 17 October to highlight that organic bananas are already grown in the Antilles, on the island of Martinique.]