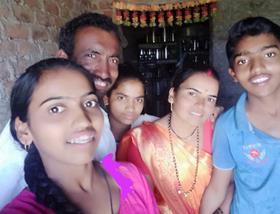 Global Women Fresh (GWF) has joined forces with Fresh Express India to provide 30 women farmers and their families with medical insurance in response to the Covid crisis.
Officially, by late May, about 27m infections had been confirmed and more than 300,000 people had died as a result of the virus's second wave hitting the country.
Fresh Express India is a family-owned table grape grower-exporter based in Maharashtra. In the early 1990s, a group of wives started experimenting with natural farming in the drought-prone area, choosing grapes as their crop since they require minimal water to thrive.
The majority of these smallholding farms were started by women, since the men of the households often sought employment in the city. What started out as curiosity turned into a network of almost 500 small, family-run vineyards, together forming a successful international trading company.
This is the second time GWF has partnered with Fresh Express. Last year, GWF held a seminar on domestic violence alongside Global Rights for Women, for Fresh Express employees. There pandemic has led to an increase in rates of domestic violence in recent months and GWF leaders wanted to do something to help.
"We wanted to do something long-term and sustainable," said Nina Patil, director of Fresh Express India.
According to Patil, many of the farmers could not afford medical visits, nor to take time off from work to help slow virus transmission.
With Fresh Express India's promise to match the contribution and more, GWF funded medical insurance for 14 women and their families. Fresh Express India made an initial contribution of 16 insurance policies, and with additional donations has now been able to fund nearly 30.Many of these women are still the primary caretaker of their vineyards and households.
"With GWF being the initiator of this, we insisted that the insurance be in the woman's name," said Patil. "It gave them a sense of importance in the family, because they are quite used to having things in the men's name."
Akkatai Mahadev Salunkhe is one of the farmers to have benefited from the insurance policy. "The Children and I feel a lot more confident now to go about our daily tasks with the medical insurance under our belt," she told Fruitnet.
Another farmer, Trupti Keshave Kumbhar, said: "I've learnt to step out on my own and work independently in the farm. I have a new born and I'm happy we are insured, securing her future too, in the process."
GWF co-founder and president, Julie Escobar, explained: "For both GWF and Fresh Express India, this was more than a gesture of solidarity in the global fight against Covid-19.
"It was an opportunity to empower and promote the wellbeing of our fellow women in the ag-fresh industry."
Companies wishing to sponsor similar GWF initiatives can visit the webite at: https://www.globalwomenfresh.com/sponsor/