Organisation links arms with Ukrainian Berries Association to support internally displaced people during conflict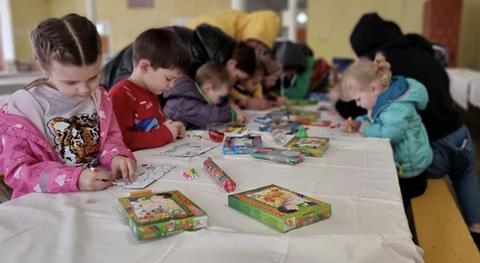 International women's networking platform Global Women Fresh (GWF) has donated US$5,000 to the Ukrainian Berries Association's to fund its humanitarian efforts during country's war with Russia.
GWF had been due to announce the winners of its Woman of Impact and EmpowerHER Company awards at last month's Fruit Logistica but postponed the event to focus on fundraising to aid the ongoing crisis in Ukraine.
Members of the Ukrainian Berries Association (UBA) specialise in the growing and processing of berries and stonefruit, supplying of planting material, plant protection products, technical resources and more.
Despite the challenges of Covid, UBA has nearly doubled its exports in the past three years. But in the past three months it has shifted its focus from the fresh produce industry's hustle to supporting the Ukrainian people.
UBA has launched a fundraising initiative called Ukrainian Hope Place to support the internally displaced people (IDP) of Ukraine.
According to the International Organisation for Migration, over 7.1m people have been internally displaced since Russia invaded Ukraine.
Money donated to the Ukrainian Hope Place provides IDP with food, hygiene items, baby food and baby care, furniture, medical services, and other necessities, as well as purchasing Ukrainian products to support small businesses: farmers, producers, service providers and more.
Roughly 90 per cent of those displaced are women and children. When asked how female leadership impacted the approach UBA took to addressing the humanitarian crisis, president Irina Kukhtina said: "We are about a different story. We are women; we are about creation, more focussed on saving lives and improving wellbeing so that is why we choose exactly this kind of project".
According to Kukhtina, one of the primary concerns for Ukrainians right now is food security and household income. State-funded programmes are being funnelled to grain, corn, oil, and other producers with more than 100ha of land.
While important, lots of that work can be done by small handfuls of people with combine harvesters and other industrial agricultural equipment. The UBA is investing donations in small-holder farmers to create jobs and provide whole foods for internal consumption by families and communities since shipping is currently a challenge.
The US$5,000 raised by GWF has been used to furnish a refugee camp of 200 displaced people in the Volyn Region of Ukraine.
As requests roll in from refugee camps and communities all over the country, UBA is calling on global allyship to support the foundation of this sovereign nation—its people.
Click here to join the efforts