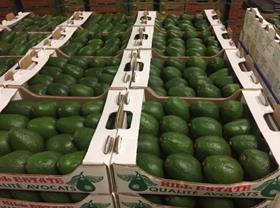 Avocado specialist Halls and LCL Logistics has created a pioneering partnership to help send the first ever door-to-door export container of the fruit from rural Swaziland to the UK.
Halls and its grower partner Hill Estate worked together to overcome the challenges of accessing Hill Estate's recently relocated packhouse, now situated on the farm in a particularly remote area of the southern district of Shiselweni, one of the most underdeveloped regions of Swaziland.
To help, dedicated supply chain partner LCL Logistics was called in to assist with advising on road upgrades and repairs to facilitate the navigation and safe maneuvering of a fully loaded reefer shipping container over Swaziland's most mountainous region.
"With over 125 years' experience in the fresh produce industry, we appreciate the role we can play in supporting our grower partners with all aspects of their business,' said Craig Lewis, commercial director of Halls in South Africa. 'This is part of our ongoing service to them and the many challenges presented by Hill Estate were fascinating – we jumped at the opportunity to help."
David Meyer from Hill Estate commented: "The successful arrival of this door-to-door avocado shipment in Europe is a first for us in Swaziland. The commitment and support received from Halls and LCL was the key to achieving this milestone and I am grateful to everyone involved."
'The foresight of Hill Estate, coupled with the expertise and the pioneering spirit of Halls and LCL, has culminated in fresher avocados now arriving into Europe from Swaziland because of improved cold chain management and a more cost effective, direct route to market,' Halls commented.