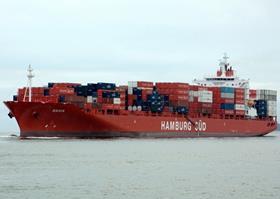 German shipping group Hamburg Süd has announced that it is increasing its coverage across Central American routes by by joining APL in a two loop service concept (WECA), due to come into force on 4 September this year.
According to Hamburg Süd, the new service allows for a more comprehensive coverage connecting the growing market across the west coast of Central America to the Hamburg Süd network, with additional possibilities opened through the connection of Paita, Guayaquil and Balboa.
String 1 (WCX – WECA1) of the revamped service will deploy three vessels of 1,300 TEU, with a port rotation of Balboa, Puerto Quetzal, Lazaro Cardenas, La Union, Puerto Caldera, Balboa, Paita, Guayaquil and Balboa.
String 2 (MCX – WECA2) will deploy one vessel of 1,100 TEU and has a rotation of Lazaro Cardenas, Acajutla, Puerto Quetzal and Lazaro Cardenas.