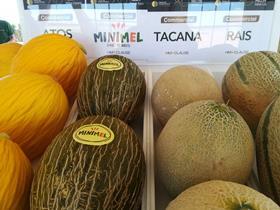 Vegetable seed specialists HM Clause and Hazera invited European retailers to a special event in Murcia last week to showcase their melon and watermelon fresh chain solutions.
HM Clause has developed a range of innovative melon varieties with improved product performance, better eating quality and consistency and a longer shelf-life, for different growing regions and markets within Europe.
"Our role is to facilitate the growth of the fresh chain business players while offering a great tasting experience through an assortment of melons developed for every tastebud," said Manuel Ferrer, EMEA food chain manager.
According to Philippe Mention, orange flesh melon product manager, the Karman range, with newcomers Chaman (for the early Murcia season) and Urkan (for the main European season), garnered significant interest from the visitors within the LSL Charentais segment thanks to their attractive external appearance a high internal quality.
"Also, as a speciality, the Saphir family is a unique premium range for melon lovers and gourmet markets. Thanks to its outstanding eating experience it amazed all visitors," he said.
Ronan Le Delliou, melon product manager, explained that HM Clause was also building a very competitive Yellow Canaria range combining strong agronomic performance, high-quality fruit and good shipping ability. These include the new Mirlo for the Spanish main season, Jabiru for the Costa Rica counter season.
Other novelties included Atos, an original premium variety, and the Minimel mini Piel de Sapo variety.