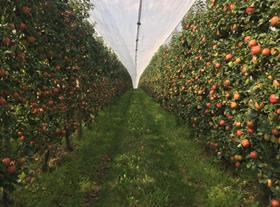 Following one of the toughest and coldest spring periods that French apple producers can remember, French apple producer Innatis has praised the dedication of its growers for delivering a record Honeycrunch harvest.
'We fought against frost for up to 14 nights in the Loire Valley, while being on surveillance for over 20 nights,' says Arnaud de Puineuf, president of Innafruits, the growing organisation of Innatis. 'We saw temperatures close to -5oC, but thanks to a combination of sprinkler irrigation, candles and windmills, we managed to save the crop, and we can report that very few skin defects can be seen on Honeycrunch.
'A massive job has been accomplished by the growers throughout many sleepless nights to bring this harvest to completion.'
After last year's mostly large Honeycrunch sizes, Innatis anticipates a return to standard average sizes of 70-85mm this year.
According to de Puineuf, the weather conditions over the last few weeks have also been optimal for the colouration of the fruit, further enhancing quality expectations for the incipient season.
Harvesting is set to commence around week 35 in the Loire Valley, with the first apples set to be shipped around week 37, according to de Puineuf. The German Honeycrunch crop in Altes Land apparently begins a couple of weeks later.
'A massive thank you is in order for the growers,' de Puineuf declared, 'and we're eager to start this new season!'