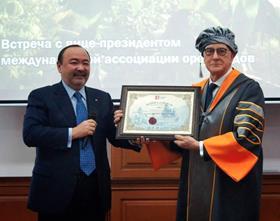 Giuseppe Calcagni, a renowned player in the international dried fruit and nut business and a leading figure in the global fresh produce business, has received an honorary diploma (Honoris Causa) at the Caspian University in Almaty, Kazakhstan, in recognition of his recent efforts to improve the country's standing as an exporter.
Calcagni, who is currently vice-president of the international dried fruit and nut organisation INC, has spent a considerable amount of time in Kazakhstan, where he and colleagues from his family-owned Italian company Besana Group have worked to establish new and rejuvenated production areas for products including hazelnuts, walnuts, almonds and pistachios.
On 23 January, he delivered a special Master Lecture (Lectio Magistralis) at the university, highlighting production developments over the past 60 years and consumption projections in emerging countries such as China and India, as well as the specific characteristics and benefits of dried fruit, and the complexity of climate change.
Drawing on his 60 years' experience in the industry, Calcagni also spoke about the various opportunities and challenges associated with agro-industrial projects in Kazakhstan, notably in terms of their socio-economic impact.