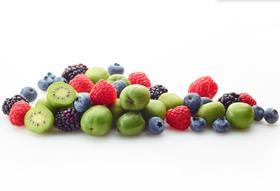 With the European berry business continuing to boom, Belgian auction Hoogstraten plans to bolster its position as one of Europe's leading suppliers of strawberries, while expanding further into alternatives like raspberries and blueberries.
"We sell around 32,000 tonnes of strawberries, but this accounts for half of our turnover, so we are still a smaller player in other berries," says sales and marketing manager Jan Engelen.
Demand is increasing for berries in general, he adds, but more for raspberries and blueberries than for strawberries.
'We are slowly growing, motivating our growers to invest in raspberries, blueberries and even blackberries, which we had for the first time last year,' says Engelen. Our non-strawberry berries are just for the domestic market at the moment, but we want to expand production and start exporting. We want to be a major player in the whole berry category."
As for strawberries, Hoogstraten's producers continue to grow their acreage, predominantly in glasshouse production.
"The main production peaks are in the spring, when we have strong domestic consumption, and in the autumn, when consumers don't tend to have strawberries front of mind," says Engelen. "That's because there are lots of alternatives around, including grapes, apples, pears and early citrus. This is a challenge for the future, to make consumers aware that there are good quality strawberries available in the September-to-December period."