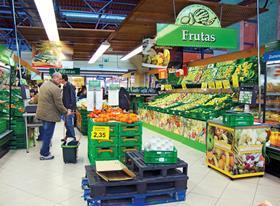 Purchases of fresh fruit and vegetables have skyrocketed in Spain since the start of the lockdown, government research shows.
Using information collected through barcode readers, the Ministry of Agriculture, Fisheries and Food analysed the domestic consumption of 12,500 households in the week beginning 13 April. It shows a rise in sales across all food categories compared to the same week in 2019.
Purchases of fresh and processed fruit and vegetables grew 66.1 per cent and 70.5 per cent respectively, while legumes increased by 77.2 per cent.
Other categories registering significant increases were fresh fish, up 57.1 per cent on the year-earlier period and 18.8 per cent on the previous week. Sales of beer, soft drinks, spirits, coffee and tea also performed strongly.
At the same time, the volume of rice and pasta purchased was up on the same week of 2019, but 3 per cent lower than in the previous week.
Consumption of bread, oil, eggs and sugar also continued to grow, while registering a slight decrease in demand compared to the previous week.
Overall, food sales grew 50.6 per cent. It's worth noting that this was Easter week, a period in which people typically eat out more in bars and restaurants, making the increase more pronounced.
Compared to the previous week (week 15), food purchases showed an increase of 1.6 per cent, suggesting that sales have stabilised following the initial panic buying at the start of the period of confinement.
By outlet, the data shows supermarkets and traditional neighbourhood stores saw purchases rise by 53.2 per cent and 63 per cent respectively. Discount stores and hypermarkets also grew by 40.4 per cent and 32 per cent respectively.
The fastest growing channel was internet shopping, which was up by more than 200 per cent compared to the same period in 2019.