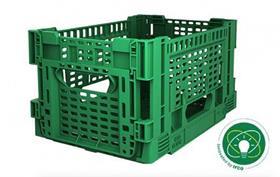 Reusable container (RPC) specialist Ifco has announced the launch of its new RPC Mini Series, the smallest reusable containers on the market specifically designed for the transportation of fresh food.
According to Ifco, the size of the RPCs allows retailers, growers and suppliers to efficiently use the available space when transporting convenience food and fresh, pre-packed food for immediate consumption.
'With the development of the new RPC Mini Series, Ifco is responding to changing customer needs,' the group outlined. 'More and more consumers are buying healthy snacks prepared for immediate consumption, such as sandwiches, ready-to-eat salads, carrot sticks or apple slices.
'As retailers have adapted their product ranges to this demand, the need for reusable packaging in which convenience food and fresh snacks prepared for immediate consumption can be transported efficiently and, in a space-saving manner has been continuously increasing. Due to the special shape of these products, for example triangular packaging for sandwiches, a lot of unused space remains during transport in conventional returnable packaging.'
The Ifco RPC Mini Series is designed to save space when transporting pre-packed, ready-to-eat snacks and convenience food.
As a result, the transportation volume increases by one third per pallet compared to the use of conventional reusable containers.
The group pointed out that Mini Series RPCs are also suitable for the presentation of fresh food and snacks in retail outlets and the products can be placed so that the label with all important product information is visible.
'With our RPC Mini Series, we offer our customers future-oriented reusable packaging,' said Ifco chief executive Wolfgang Orgeldinger. The consumption of convenience food and healthy snacks prepared for immediate consumption will continue to increase in the coming years. With our Mini Series RPC, which has been specially developed for the transport of these products, we enable our customers to make optimum use of the limited space available and deliver the goods fresh and cost-efficiently to their destination.'
The first of the new reusable containers were launched in the UK in February and, in the few months since then, the pool of Ifco's Mini Series RPCs has already grown to 250,000 units.