Red grape with the sweet tropical flavour is generating similar following to Cotton Candy a few years ago, breeder says
International Fruit Genetics (IFG) is reporting increased demand from both consumers and growers for its Candy Hearts table grape variety. The company said the red grape, known for its sweet tropical flavour and floral aroma, is quickly becoming one of its most popular varietals.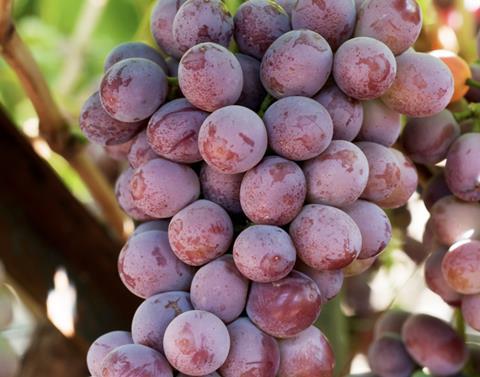 Today, Candy Hearts grapes are mainly harvested from Chile and available in stores during March and April. From May, production will move to the US and Mexico, which will supply US stores throughout the summer.
According to IFG, the grapes can vary in colour intensity depending on the region where they were grown, but they always retain their unique flavour.
"If you take a look at the whole wide world of grapes, there is a gigantic amount of diversity out there that most consumers have never tasted -­ amazing flavours that exist in natural grapes," said Dr Chris Owens, lead breeder at IFG.
"At IFG we have been trying to bring these flavours forward into a high-quality seedless table grape. Candy Hearts grapes are unique in that it combines different flavours from different sources including some Old World muscat floral aromas mixed with some New World tropical fruit aromas."
Since its launch in 2017, the variety has built up a strong international following. According to the breeder, it is generating similar consumer interest as Cotton Candy did a few years ago.
"Our consumers are reaching out to us more consistently about Candy Hearts, at times in desperation to find a location to purchase what they define as their favourite grape variety," said Elena Aguaron, commercial manager for the Americas at IFG.
"Retailers are keen to carry them in their produce sections as well. These grapes sell fast because they appeal to many – they have the right amount of sweetness that both adults and children can appreciate."