Laboratory will be a part of the company's new US$19m IFG Fruitworks|IFG Discovery Center campus
International Fruit Genetics (IFG) is to open a new state-of-the-art breeding and research laboratory this summer. The facility will form part of IFG's new US$19m Fruitworks|IFG Discovery Center campus in McFarland, California.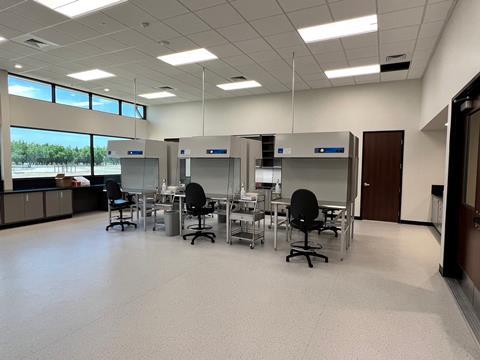 While the Fruitworks campus is due to open in the spring of 2024, the laboratory will be functional in the early summer of 2023, providing a tenfold increase in the size of the Research & Development team's current lab.
It will allow access to the newest and most highly technical laboratory equipment to enhance the IFG R&D team's work, from tissue and plant cultures to virus testing to molecular research.
IFG's lead plant breeder, Dr Chris Owens, said the new facility will allow him and his team to increase the scope of their research and bring projects that were previously outsourced due to space restrictions in-house.
It will also enable the team to work on molecular genetics projects such as determining relationships between individuals, tracking favourable genes in different populations, and understanding the genetic control of economically important traits.
Additionally, the team can now conduct in-house virus testing using molecular tools, helping to identify any virus-infected plants and eliminate the virus when necessary. According to Dr Owens, his team is looking to add functions such as flavour chemistry, to more accurately pinpoint which growing conditions will lead to enhanced flavours as well as plant pathology and plant physiology.
"What we've created here is a world class laboratory built from the ground up. We are continuing the tradition that Dr David Cain, co-founder of IFG, began over 20 years ago: to naturally breed fruit with unique and delicious flavours that both surprise and delight customers," Owens said.
"Before we bring anything into the field, we start all breeding programs in the laboratory and the new facilities allow us to continue to innovate and amplify our research methods."
CEO Andy Higgins commented: "Our newly expanded laboratory is part of IFG's official growth strategy. Not only do we get to intensify the scope of our breeding and research, but this facility allows us the opportunity to increase our current R&D team.
"Right now, we have the best-in-class plant breeder and researchers, but soon, we will be able to recruit from the finest universities as well as pull from some of the world's top fruit breeding regions, such as Chile and our home-base in Kern County. This includes hiring food chemists, post-harvest physiologists and other research team members."
Another area in which IFG wants to expand its breeding personnel is the data science field. New genomic technologies mean fruit breeders can generate terabytes of genetic data (which equals 1,000,000 megabytes) at a low cost compared to historical standards.
This data can unveil critical information, such as the colour or taste of a berry. The newly expanded laboratory facilities will allow the IFG Research & Development team to hire data scientists to analyse the large data sets.