Cathy Burns makes passionate plea in speech covering trade, consumption and technology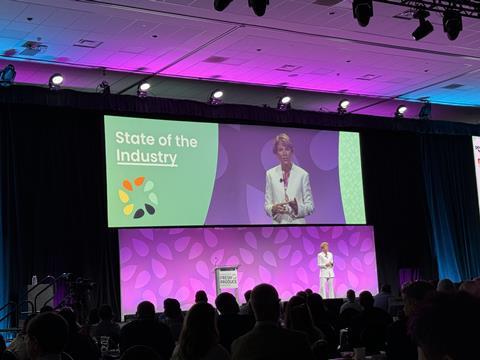 International Fresh Produce Association (IFPA) chief executive Cathy Burns has put out a clarion call to the industry to seize the moment and help boost consumption of fruit and vegetables at a time of widespread global instability.
In a wide-ranging and charismatic opening address at the Global Produce & Floral Show in Anaheim, California on Thursday (19 October), Burns outlined the latest consumer trends, the issues facing the industry and the technology and innovation that is set to help.
"We have so much more to do to increase access to our products," she said. "We must help people eat more fresh fruit and vegetables and buy more flowers more often, and overcome our humility to be a source of truth and authority. We can help solve some of the biggest problems in the world."
Key priorities
In a 45-minute address, Burns updated the industry on IFPA's progress against its three key priorities of Health of Industry, Health of Planet and Health of Consumers.
For the industry, the trade body is fighting for an exemption for fresh cut and PLU stickers in EU and Canadian regulations in the face of produce packaging bans.
It is arguing against the proposed EU neonicotinoid ban that Burns said could disrupt $5 billion of produce trade flow from the US and other markets, and is also continuing to push the US Congress to reform labour programmes to give growers a more stable labour supply.
When it comes to the planet, Burns listed the extreme weather events that have hit the world this year and said that IFPA will be representing the produce industry at COP28 in Dubai next month. "We believe the fresh produce and floral community is part of the solution through our commitment to climate-smart agriculture practices, and we continue to be relentless in our pursuit of policies that support our industry," she explained.
IFPA's sustainability council is currently looking at regenerative agriculture and how it comprises a broad set of principles and practices under the umbrella of climate-smart agriculture. The association has been running a series of sustainability summits around the world, starting in Australia and New Zealand, and gathering learnings from different environments.
The great health challenge
Against a backdrop of geopolitical changes and a great disparity between the healthiest and least healthy nations, the produce industry is well placed to help consumers, Burns believes. However there are a number of hurdles, particularly given alarming obesity levels and tightening household budgets in a cost-of-living squeeze.
One thing IFPA is convinced can help is fresh produce prescriptions. Recent research from Tufts University found that produce prescription programmes can increase nutritious food intake, cut food insecurity and help prevent cardiovascular disease. "We are laser focused on prescriptions and want to see them embedded in our healthcare system and ensuring that they are part of clinical care standard practice," Burns said.
In the US, Burns added that access to fresh produce is being threatened by what she called "misguided policy". The US fruit and vegetable benefit in the Women, Infant and Children (WIC) programme is set to be slashed by 55 per cent for children and 70 per cent for women, she explained, which would result in eligible children receiving just $11 a month and women $14 a month for fruit and vegetables.
"This benefit provides positive [health] outcomes but also a huge economic lift for our industry – it's worth $1 billion to us," she stated. "I promise IFPA will continue to fight for this benefit to be maintained at its current level."
Embracing AI
Burns spoke at length about the role AI is having, both on the fresh produce industry and on consumers. Noting that AI has been both hailed as a saviour and characterised as a demon, she said IFPA has been experimenting with AI-generated social media content creation and examining how the technology can help the trade.
Her message was very much that of seeing how AI can benefit, rather than threaten, business: "As with any emerging technology innovation is not the enemy, inertia is," she insisted. "As AI becomes integrated there is a huge opportunity to automate tasks and free up team members' capacity to create and innovate. Activities that absorb 60-70 per cent of employees' time today could be automated, and maybe some of those activities are contributing to [worker] burnout and reduced wellbeing."
Burns cited a recent study finding that while 37 per cent of workers worry that automation will put their jobs at risk, 74 per cent are ready to learn a new skill or retrain in order to be employable. "The opportunity here is to learn how to work with this technology, not fight it," she said.
At a consumer level, Burns cited examples such as a smart cutting board that provides live and on-demand cooking classes, AI chat bots at restaurant chain Del Taco taking orders and suggesting meals, and even 7-Eleven stores in Japan that can scan customers' palms to analyse if they're eating enough vegetables.
Collaborative future
In summary, Burns said the industry must unite to help grow consumption and overcome the many challenges it and consumers face. "We must break the mindset of 'growing and selling fruits, vegetables flowers and plants is just what we do – it's not a big deal'," she stressed.
"I respectfully disagree. What you do is a big deal. This community is the voice of authority. The association is here to do what none of us can do alone, but that doesn't mean we can do those things without you. We will win when each of you grabs the person on your left and locks arms with the person on your right and commits to do the work. Winning means we – you, me, everyone here – keeping things simple and focused. We are here to get more people to eat more fruit and vegetables and buy floral more often."