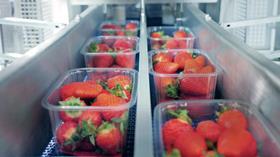 The Coronavirus health emergency has changed consumer habits, according to plastic packaging specialist Ilip, which has found itself faced with a huge rise in the demand for plastic packaging for fruit and vegetables.
According to Ilip, part of the Ilpa Group, March saw two-figure growth in turnover on fruit and vegetable packaging, driven by exports.
"The need for greater protection and hygiene in food products has made for a major rise in the demand for plastic packaging," said Roberto Zanichelli, business development and marketing director at Ilip. "Moreover, given the little time available for purchases due to wait time outside the supermarket and the need to speed up within, the demand for pre-packaged products, which the consumer sees as having a longer shelf life than bulk products, has grown as well.
'Sales of containers, packaging and accessories for the home delivery of ready food have also risen," Zanichelli continued, "as is also the case for polypropylene options, for reactivation in the microwave, directly in the container, with a hinged or separate lid, or a heat-sealable solution, for a greater guarantee of closure during transport."
The increase in production does not, however, compensate for the decline in turnover suffered on disposable tableware, due not only to the closure of school and company canteens, commercial catering and the lack of social occasions, but also the advance by the market of the July 2021 coming into force of the restrictions on the sale of disposable plastic tableware imposed by the European Directive.
Ilip said that it had managed to cope with the peaks seen in demand whilst ensuring the proper protection of its employees' safety at all times: in addition to immediately taking all the anti-Covid measures envisaged by the Government, the Ilpa Group also organised smart working, reducing the physical presence of staff and ensuring that all operators were guaranteed personal protection equipment and interpersonal distancing in the various departments.
Additionally, to ensure the best protection possible, Ilip also stipulated emergency health cover policies.

Despite the difficulties of the period and of the plastic packaging industry, Ilip said that it had continued to invest in new production technologies and was pursuing completion of its automated warehouse.
With a capacity of 60,000 pallet stations, the structure will be protected by an innovative oxygen depletion fire-fighting system, which will protect the products and the environment.
Standing next to the production plant, it will put an end to transferring products to external warehouses, thereby also improving business sustainability.

Meanwhile, the Ilpa Group has provided concrete evidence of its support to all the healthcare professionals working first hand to fight the Coronavirus through a donation made to Modena University Hospital and supplies to Bergamo Red Cross of food containers used by volunteers to prepare and deliver meals.
"Disposable plastic tableware and food packaging to protect both food and consumers are proving to be essential in the current health emergency," Zanichelli concluded, "hence we hope they will earn greater appreciation, in terms of environmental, but also social and economic sustainability, from the national and European policy in respect of the plastic tax and the directive on single-use plastic."