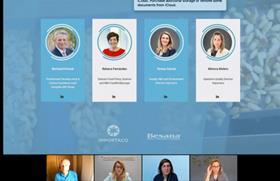 Having a coherent and effective food safety culture, and being able to communicate this honestly and effectively to consumers, is the key to building trust with your customers.
This was the conclusion of a recent webinar held by Importaco, Europe's leading supplier of dried fruit and nuts, to mark World Food Safety Day on 7 June.
The webinar heard how consumer health can be protected through health and safety best practice and how trust is an essential ingredient to create long-term relationships with stakeholders.
Teresa Cercós, director general of food safety, innovation, and environment at Importacoled a panel discussion between importaco's quality director, Mónica Molero, Bertrand Emond of Campden BRI Group andRebeca Fernández of FoodDrinkEurope.
According to the panellists, trust is based on three main pillars: coherence –being aligned in what you say and do; transparency and communication; and leadership and commitment.
Other topics discussed during the event included the need to establish a cohesive and continually improving food safety culture; the importance of innovation in finding new solutions to food safety issues; the need to mitigate cybersecurity risks and misinformation and the importance of placing the consumer at the centre of the decision-making process.