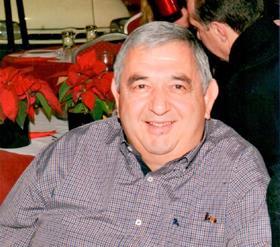 Bambos Agrotis, the founder of leading Cypriot fresh produce importer-exporter Amalthia Trading, has died at the age of 65 following a short illness.
A statement from his son Andreas, the import manager at Amalthia, confirmed that Bambos had passed away on Wednesday (18 August). He leaves behind his wife Joanna, to whom he was married for 40 years, his children Andreas and Kyriacos, and his grandchildren, Arianna, Charalambos, Renos and Liam.
An experienced and popular fresh produce industry figure, Bambos founded Amalthia Trading in 1992 after joining forces with Chris Papanicolaou, with a vision of maximising the fresh produce selection available in Cyprus by importing high-quality fresh fruit and vegetables.
Today, the company is one of the largest importer-distributors in the country offering a vast array of products and supplying a wide variety of produce traders including wholesale markets, hypermarkets, supermarkets, small and medium grocery stores, cruise ships, hotels and restaurants.
Bambos was described as 'a remarkable business man and most of all a loving father, husband, grandfather and friend'.
His funeral will take place at Panagia Evaggelistia Church in Pallouriotissa on Saturday 20 August 2016. Condolences to the family will start at 10am, with the funeral service at 11.30am and the burial will follow after at the Constantinou & Elenis Cemetary.
Andreas confirmed that, In order to facilitate the smooth operation of Amalthia Trading, the business would stay open and operate without the Agrotis family during the grieving period.
The Fruitnet team offers its condolences during this difficult time.