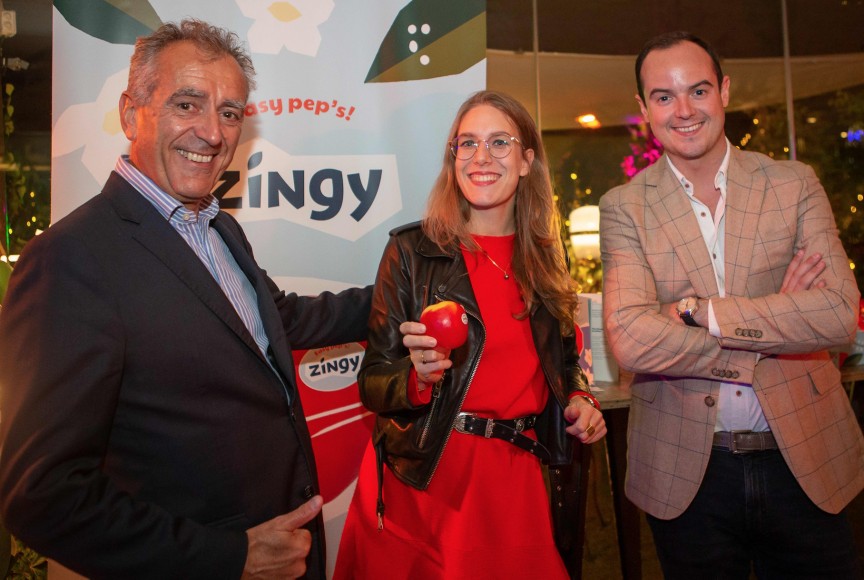 The recent Fruit Attraction show in Madrid saw the launch of new deep-red apple variety Zingy by French producer Innatis, which owns the exclusive marketing rights in Europe.
Bred and developed close to Innatis's headquarters in Angers, Zingy is harvested early, at the end of August.
The variety gets its name from its "zesty kick", according to Emmanuel De Lapparent, development manager at nursery Dalival.
"The name goes well with the taste profile," he said. "It also looks outstanding, has a great taste and stores well for early selection."
"We started with around 400 names and it took almost a year to decide on all the branding," continued Arnaud de Puineuf, sales director at Innatis. "It's a short name and very international. That's because we believe this apple has the potential to go global. It is not the sweetest variety, although it has a high Brix of 13-14, because it also has a nice acidity when you bite into it."
The variety benefits from the ease with which it can be grown, allowing it to be cultivated in many different regions. Currently produced in the Loire Valley and southeast of France, trials are now underway in Italy, Switzerland and Germany.
"We hope this winter to start the first production trials in the UK and Spain," revealed de Puineuf.
This year, he said, production should reach around 150 tonnes, rising to 800-900 tonnes next year. "The aim is to expand European production to 350ha within 7-8 years," he said.
Zingy is grown in certified ecologically responsible orchards, meaning the variety meets certain strict criteria concerning biodiversity, organic pest controls, handpicking, traceability and independent auditing of good agricultural practices.