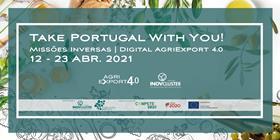 Almost 100 international buyers from around 20 countries took part in last month's Digital Agriexport 4.0, the virtual networking event organised Inovcluster to showcase of Portugal's fine food export offer.
The event was scheduled to run from 12-23 April but was extended by another week in order to accommodate the high demand for meetings. In all, more than 200 separate meetings were held during the three-week fair.
"The level of interest from international buyers, who came the platform in search of new partners – and some of whom were already aware of the quality offered by Portuguese producers – has been crucial to the success of the event," said Inovcluster.
Fresh fruit and vegetables, coffee, wine, olive oil and jams were among the products on offer on the platform.
The event also featured a series of webinars addressing issues such as the circular economy, digitisation and the approach to international markets.
Inovcluster said it hoped it would generate new business leading to an increase in Portuguese exports.