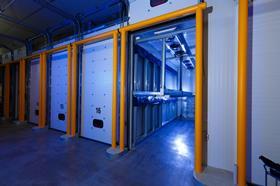 Interko has installed state-of-the-art ripening rooms for major retailers, importers and distributors in the Netherlands, Mexico, Colombia and Argentina this year as it continues to expand its global footprint.
Managing director Chris Maat said the cutting-edge technology could help companies to cut their operational costs, reduce energy consumption and minimise product loss, while improving product quality, finish and shelf-life.
In the Netherlands, Interko recently installed turn-key Optimo ripening rooms for two companies who ripen avocados.
Maat said: "Interko is well-known when it comes to traditional banana ripening. However, not all Dutch operators are aware that Interko's range includes advanced ripening rooms for avocados.
"We are keen to spread the word because the Netherlands is re-exporting across Europe a significant percentage of its imported avocados, and most of that volume is being ripened first by Dutch distributors."
Following the installations, Maat said one customer had seen a significant reduction in production loss after a considerable fall in the requirement for re-sorting.
"Interko's Optimo rooms can be compartmentalised into four zones since each zone has its own cooler and air guidance system," he explained.
"This means you don't have to fill the entire room if you only want to ripen a smaller load of avocados or other tropical fruits. This is a major benefit because operators can respond quickly to market requirements while supply and demand fluctuates as the avocado industry evolves."
Earlier this year, Interko installed eight new Ultimo banana ripening rooms for a leading multinational retailer in Mexico, as well as two Optimo rooms for Mexican tropical fruit supplier, Frutas Reales.
In Colombia, the Dutch firm has installed four Ultimo ripening rooms for an avocado producer-exporter.
Earlier this year Interko also completed the installation of another six state-of-the-art Ultimo ripening rooms for Don Jaime, a major premium banana distributor in Argentina. It said the rooms had lowered the company's operational costs and improved both fruit quality, finish and shelf-life.
"Our most recent installations will interest a lot of companies in the fresh produce world in terms of understanding the widespread benefits being reaped by the operators," Maat said, adding that he was looking forward to sharing the company's progress with visitors at next week's Fruit Attraction, where Interko will have a stand.