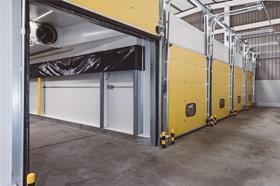 Interko is returning to the trade exhibition trail at World Food Moscow 2021 on 21-24 September, where exhibitors and visitors will meet face-to-face again following the relaxation of many Covid-19 restrictions.
The group will meet with current and prospective customers to showcase first-hand the benefits of its latest ripening technology advances for operators across Russia and the Commonwealth of Independent States (CIS), where demand is rising for proven technology to ripen exotic fruits.
"Nothing compares to doing business in person, and now that we can meet customers face-to-face again we can't wait to share and demonstrate our most recent developments at international trade fairs, starting with World Food Moscow 2021,' said Chris Maat, managing director/partner at Interko.
"Interko is a trusted brand, and we are committed to innovation,' Maat continued. 'We believe our latest advances will add even more value to our technology for existing and potential customers across Russia and the CIS where we see growing demand for high quality, reliable and efficient fruit ripening systems."

The Netherlands-based company said that its latest design improvements would enable Russian and CIS retailers, importers, distributors, wholesalers and food processors to add more value to their tropical and exotic fruit supply thanks to cost reductions, energy savings and a superior understanding of the ripening process, all of which will enhance system performance, fruit quality, and profitability.
In addition to its banana ripening rooms, Interko offers Russian and CIS companies a range of rooms that suit either small or large operators looking to ripen to perfection tropical and exotic fruits, such as avocados, mangoes and kiwifruit.
Interko noted that its three principal ripening rooms – Ultimo, Axesso and Optimo – come fitted as standard with its reversible Reverso fans, which cut energy usage, thereby presenting cost savings on electricity.
By installing modern ripening rooms, operators will also improve their understanding of the process, and how to manage the fruit that they are ripening, Maat explained.
"Education truly is the gateway to adding even more value,' he said. 'With older ripening systems, the operator lacks adequate temperature or ethylene control, which can make you doubt your understanding and the ripening process. Once you have installed a modern ripening room and you have proper control and stability within the room, the equipment performs as you would expect. This enables you to focus on truly understanding the fruit's ripening process. Then, you can start to investigate how to handle the fruit better to deliver superior quality."