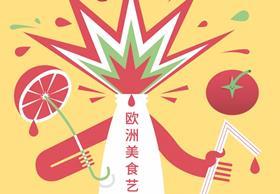 Conveying the values of the European fruit and vegetable sector – and Italian production in particular – is the objective behind the creation of The European Art of Taste: Italian Fruit & Veg Masterpieces, a new campaign financed by the European Union and CSO Italy, and designed to create a solid and lasting relationship with countries in Asia.
For the next three years, the campaign will target consumers, journalists and industry professionals in China, Japan, Taiwan and Hong Kong in a series of initiatives designed to promote the quality, guaranteed safety and wholesomeness that are certified by strict European production regulations.
The project's ambassador products will be fresh kiwifruit, red oranges and pears, as well as fresh processed vegetables and orange juice and other fruit juices, which are among our country's most outstanding products.
The producers themselves are all members of CSO Italy: Oranfrizer, Apofruit, Apo Conerpo with Alegra and Naturitalia, Consorzio Jingold, Cico, Lagnasco Group and Origine Group.
The project will include a series of in-store events and initiatives in major cities, as well as online marketing, the creation of a special website, the dissemination of content on the most popular social platforms in those target countries, and articles in leading food and lifestyle publications.
Creating a bond with media influencers will be one of the campaign's fundamental aims To that end, it is planning to organise workshops and gastronomic experiences for journalists.
The trade, meanwhile, will be involved in a series of B2B events at the main trade fairs – Asia Fruit Logistica, Macfruit Attraction China and Foodex Japan – with the aim of creating new networking opportunities between leading European fruit and vegetable companies and the consumer markets involved in the project.
Works of art
Celebrating nature's masterpieces is an idea at the heart of the project's marketing imagery, a veritable work of art created by artist Antonio Pronostico, who comes from Matera in Italy and has been working in illustration and comics for many years.
Italy is famous around the world for art in its broadest sense, from visual disciplines to culinary ones, because of its excellent products, its landscapes and its skill in creating recipes that are world-renowned.
Raw materials like fruit and vegetables are no exception. Italy has many unique varieties on offer, including 93 PDO- and PGI- certified products.
Mr Good Fruit, an imaginary character that represents a combination of these fantastic products, will be presented and promoted by the project.
Among these products, kiwifruit and red oranges stand out along with many other products that typify the range of fruit and vegetables on offer across Europe – from cherries to tomatoes, not to mention apples and pears, and a large variety of vegetables, as well as processed products from fruit juice to tomato purée, and the many vegetables that are preserved to maintain their healthy characteristics.
The original, colourful style used to portray a cartoon version of Mr Good Fruit features predominantly red and yellow hues, and is designed to celebrate the Italian tradition and its meeting with Asian style and motifs. Furthermore, it fully represents the craft skills and Italian artistic creativity.
European distinction
The fundamental values that The European Art of Taste wishes to convey are based on the distinguishing features of quality and safety of the European Union fruit and vegetable products both in their fresh and processed forms; and a healthy and sustainable production system that safeguards consumers and preserves the natural qualities of the products.
Italy also boasts long-standing experience in the field of integrated crop management, which began in the 1970s, and which has established itself around the world thanks to its very high quality.