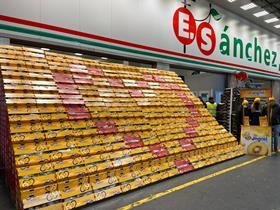 Italian kiwifruit marketer Jingold celebrated its 20th anniversary with a special promotion for its yellow kiwifruit with Frutas E. Sanchez, its distributor in Madrid's wholesale market, Mercamadrid.
The company, which was founded on Valentine's Day 2001, brings together more than 800 growers from around the world.
Mercamadrid has hosted four promotional days for the brand in the last two weeks to share the unique characteristics of the variety with the trade and consumers.
"We want to continue informing consumers about the quality of our kiwifruit varieties, their taste, sweetness, Brix levels and excellent shelf-life," said Federico Milanese, director of international development and marketing at Jingold.
"We have increased our sales in Spain by between 20 and 30 per cent since 2019. This, in a market that prioritises quality over other attributes, is great recognition of what we do."
Production of conventional and organic Jingold kiwifruit is up 30 per cent this season, reaching 18,000 tonnes across its three commercial varieties of yellow, red and green kiwifruit.
"It has been a very good campaign. We are satisfied with the volumes we have sold, especially in this period, which is when sales peak," said Moreno Armuzzi, Jingold's sales coordinator for the Spanish market.
"We feel that Spanish consumers are now beginning to get to know our brand."