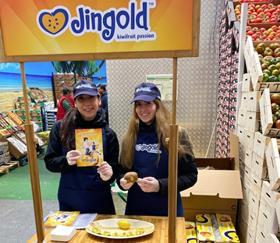 Jingold has launched a promotional campaign in Spain to boost awareness of its flagship yellow-fleshed kiwifruit.
As the 2019/20 season enters its final stages, the company has teamed up with Frutas E Sánchez, its Spanish distributor to hold a series of tastings at Madrid's wholesale market, Mercamadrid, in order to familiarise buyers with the product.
They will also distribute 400 in-store promotional kits to encourage them to decorate their shops.
"We are optimistic about the progressive growth that Jingold has experienced in Spain…and are already working to ensure that we have sufficient volumes of this, and the new red-fleshed kiwifruit, to respond to this growth, "said Moreno Armuzzi, Jingold's sales coordinator for the Spanish market.
Jingold is available year round, with the Italian season running from October to April and Chilean product available between May and September.