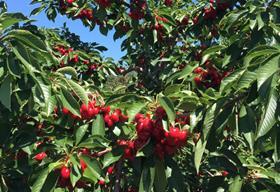 UK fresh produce group JO Sims has said that it is celebrating the end of a successful Washington cherry season.
The company grows fruit internationally and this season were responsible for 92 per cent of UK imports of the Washington-grown fruit, most of which came from its own farms (according to the official North West Cherries export statistics).
JO Sims owns farms across Washington state, growing over 300 acres of cherries, as well as apples and stonefruit.
"This year's season from Washington has been blessed with fantastic quality,' said Darren Matschull, procurement director at JO Sims.' Having access to good volumes of firm, high quality cherries allows JO Sims' customers to benefit from a strong late Summer season at a time when others struggle."
The Washington cherry season started on 1 June this year, with UK retailers continuing to sell the crop well into September.
The high-altitude farms in Washington extend the season for this cherry crop, at up to 2,500 feet the Cherries can continue to be farmed into late summer.
JO Sims is recognised within the industry for its superior quality fruits, its trademark 'Cherries… Our Passion', highlighting the company's devotion to the fruit.