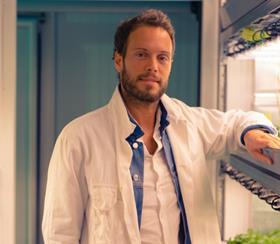 French vertical farming outfit Jungle has raised €42m to help it expand across the UK and Europe.
Founded in 2016 by Frenchmen Gilles Dreyfus and Nicolas Séguy, the company grows fresh herbs, salads and flowers without pesticides or herbicides, and in 2020, it produced more than 50,000 plants. That number is projected to soar to over 10m by 2022.
With its latest funding, the startup plans to support its continued growth, develop new commercial partnerships, and increase its workforce. The debt financing will also enable Jungle to build the necessary infrastructures for vertical farming, as well as develop its production capacities 'to become the European industry leader', the company said.
More than €7m of the total funds raised came from Founders Future, Demeter Partners in addition to its existing investors - Alain Dinin (PDG Nexity), Christian de Labriffe (Tikehau, LVMH) and Serge Papin (ex- PDG Système U). That was supported by Atlante Gestion on the debt financing side.
Jungle said it wants to bolster its presence in France, Europe and the UK and continue to invest in R&D to offer 'the most innovative and highest-performing technological processes on the market.' It aims to grow 100 per cent local produce on an industrial scale.
Thanks to the fundraising, Jungle's vertical farm based in Chateau-Thierry will stretch over more than 5,000 sq m, enabling a substantial increase in fruit and vegetable production. The business already has growing partnerships with food distributers including Monoprix and Intermarché, among others.
The cash raised will also enable the development of Jungle's commercial strategy geared towards large French and European food distributors. It aims to supply more than 2,000 points of sale over the next two years.
'Our motivation is knowing that Jungle has the ability to positively impact the way in which we consume as a society,' said Dreyfus. 'We were willing and open to the shift in the agricultural industry towards more environmentally friendly solutions, having the capacity to mass produce without pesticides, all whilst reducing the environmental impact linked to production.'
Background: Who are Jungle?
Jungle is the story of two entrepreneurs, Gilles Dreyfus (president) and Nicolas Séguy (managing director, previously co-founder of the footwear brand Feiyue) who describe their vision as wanting to produce high-quality crops on an industrial scale in order to meet global food and plant ingredient demand.
Following a meeting with Dickson Despommier, microbiologist and pioneer of vertical farming from the University of Columbia, Dreyfus left his career in finance and travelled the world in order to gain greater understanding of the field. He recognised that for the same ground surface area, vertical farming was able to produce between 10 and 30 times more crops than traditional farming methods.
The venture officially began in 2019 when the two entrepreneurs saw their first 15 sq m container installed in a supermarket car park in Lisbon. High-quality produce in large quantities were grown in non-polluting vertical farms, enabled thanks to technology systems provided by UK-based IGS, which allows the systems to be managed in real time using IOT.
Currently a team of 25, Jungle said its latest funding will double the workforce by 2022 in order to increase its presence in Europe, creating tens of jobs based in the main production regions of France.