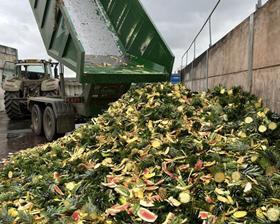 Biomass from waste generated at Jupiter Group's AA-graded prepared fruit plant is producing10,500 kilowatts of energy each day, enough to power around 2,000 local homes.
The findings were shared just weeks after the launch of Jupiter's Prevented Ocean Plastic punnets in partnership withpackaging supplier Sharpak Aylesham.
Jupiter Group produce 25-30 tonnes of fresh fruit waste from itsprepared fruit facility each week,which is collected by a local farming operation to be converted into power via biomass digesters.
Fruit that does not pass Jupiter's strict quality tests, alongside the rind, skins, stems and tops are collected weekly to be transformed into energy for local homes.
The fresh fruit waste is processed through an anaerobic digester on a farm local to Jupiter's headquarters, where bacteria breaks down the fruit in the absence of oxygen and naturally produces 10,500kw of energy each day, with 8,000kw exported to power homes close by.
The energy in biogas can be used like natural gas to generate electricity, provide heat and power cooling systems, amongst other uses.
In addition to using the biogas produced from the anaerobic digester, the heat from the engine is also utilised to produce kiln dried logs.
Anaerobic digestion is a fantastic alternative to landfill as for every tonne of food waste recycled by the process, it prevents between 0.5 and 1 tonne of CO2 entering the atmosphere.
Alongside its recent announcements around green energy and its reduction of virgin plastic use, the group said it is also invested in gender parity in the fresh produce industry.
In a bid to address the so-called she-session in South Africa seeing three-quarters of youth unemployed due to the pandemic, Jupiter this month welcomed a group of female students on to its citrus farm to complete their practical hours required for their Farm Management studies at a local agricultural college.