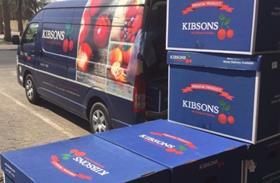 Dubai-based Kibsons International has expanded its logistics operations in Dubai with a new warehouse at Al-Aweer fruit and vegetables market, equipped with mechanised handling equipment solutions from machinery dealer Al-Bahar.
According to a report in Logistics Middle East, Al-Bahar supplied Kibsons with 17 units for a mixed fleet of Cat Lift trucks and UniCarriers forklifts, enabling Kibsons to carry out warehousing functionalities efficiently, storing and delivering fruit, vegetables and meat across the UAE.
"As part of our ongoing coldstore expansion project, we were looking for flexibility and dependability while choosing the material handling solutions," said Husainy Sharbat, head of operations at Kibsons International. "Our business handles dynamic scenarios, demanding equipment that is versatile and compliant."
Kibsons revealed that the new warehouse was primarily for storage and distribution capacity, with a restricted aisle space of 2.5m and radio shuttle racking system, requiring a solution that could operate in narrow spaces.
Al-Bahar responded by offering narrow aisle reach trucks, with the chassis of a reach truck and a VNA (very narrow aisle) forklift, ideal for use in narrow spaces.