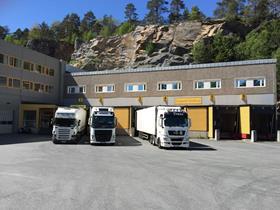 Logistics provider Kloosterboer has confirmed that it completed the formal acquisition of Mosseporten Frysehotell AS in Moss, Norway, on Fridat 22 May.
The acquisition highlights Kloosterboer's decision to further expand its services to customers in Scandinavia, with Mosseporten Frysehotell changing its name to Kloosterboer Norway AS.
The cold store, measuring 8,500m2, has 20,000 pallet spaces and is located near to the port of Moss, about 60km from Oslo.
It has been in operation since 2009 and is one of the largest and most modern cold stores in Norway, according to Kloosterboer, with Its location noteworthy given that the entire property is built into a mountain.
For Kloosterboer, this Norwegian cold store represents a valuable addition to its existing network in Scandinavia, as CEO Hans Kroes explains. "In combination with the team in Sweden, where we are currently finalising a new fully automated high bay cold store in Bjuv, we are well positioned to further develop our services as a logistics service provider in the Scandinavian market.'