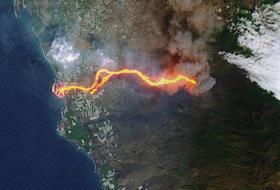 Around 1,500 of La Palma's 5,000 banana growers have been impacted by the volcanic eruption, according to estimates from the Canary Islands banana growers association Asprocan.
As the volcano continues to spew lava more than six weeks since it first erupted on 19 September, hundreds of hectares of production have been covered with molten rock, with several hundred more cut off after roads became impassable.
The regional government of the Canary Islands estimates that the volcano has already caused €100m in losses for the island's banana industry.
Some growers have lost their harvest due to farms becoming inaccessible, others have been unable to market their bananas because of damage caused by the volcanic ash.
La Palma is the second-largest banana producer in the Canaries. Bananas account for 30 per cent of the island's economy, supporting not just small producers but also businesses dedicated to packing and transporting the fruit.
Last year it produced 148,000 tonnes of the fruit, most of which were sold in Spain, where its sweeter taste means many consumers prefer it to bananas sourced from Latin America and Africa.
Authorities pledged financial aid to help the sector and fund furloughs for workers. They have also promised to revise a law that says that new land formed by the lava is property of the state.
The government has promised financial aid for producers, and has installed desalination plants so that plantations where irrigation systems have been destroyed by the lava can continue to be supplied with water.