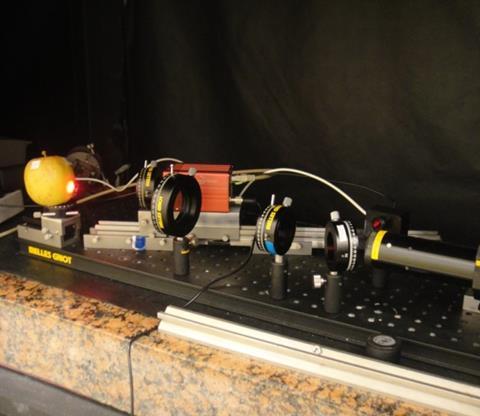 Laser technology could soon be used to monitor the ripeness of fruit, providing growers with a more precise idea of when they should harvest, according to a team of scientists at the Saint Joseph University in Lebanon and the Université de Bretagne Occidentale in France.
As reported in The Optical Society journal Applied Optics, the group recently demonstrated a technique capable of detecting the climacteric peak of Golden Delicious apples at low and room temperatures by firing a laser at the fruit and analysing what is known as the biospeckle – the pattern of black and red dots reflected as a result (see below).
The technique is said to have yielded results that showed how the apples' cellular structure and water content changed over time as they released ethylene and ripened.
Rana Nassif, a post-doctoral researcher affiliated with both universities, said the system could be used in developing a more accurate and reliable hand-held ripeness tester.
"This approach allows us to validate biospeckle as a non-invasive alternative method to respiration rate and ethylene production, which are used today for climacteric peak detection and as a ripening index," she explained.
Nassif and her colleagues have also conducted similar tests on Conference pears, and the technology could apparently be used to predict the optimum harvesting time for other so-called climacteric fruits, such as bananas and tomatoes.
"This is of great interest to fruit farmers – especially since most tests used today are either destructive or based on visual criteria that are often wrong," she noted.