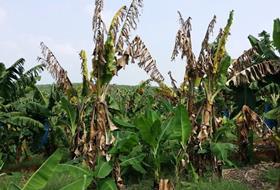 Banana-producing countries in Latin America are on high alert following the possible discovery of Tropical race 4 (TR4) in northern Colombia.
On Saturday the Colombian Agricultural Institute (ICA) put out a statement confirming that it had activated contingency plans for the containment of the virus on 17 June. Around 150ha have been put under quarantine in La Guajira, a region with around 1,600ha of banana plantations.
ICA's general manager, Deyanira Barrero León said the body had acted "with all speed and diligence" to contain the outbreak on two farms in La Guajira applying internationally established protocols for the diagnosis, contingency and prevention of the disease.
ICA is currently waiting for results of diagnostic tests of the pathogen, which it said would take about 30 days to confirm and should be known in August.
Andrés Valencia, Colombia's Agriculture Minister, confirmed the suspected discovery on Sunday, saying: 'We are working on the suspicion of a fungus called Fusarium TR 4 that affects bananas, preventing the process of photosynthesis. We have isolated some farms in the department of La Guajira.'
According to a report in El Universo, the Banana Association of Magdalena and La Guajira said that, despite the warning and preventive actions during the diagnostic process, fruit exports would not be affected at this time.
The International Organisation for Regional Plant and Animal Health (Oirsa), whose membership includes Belize, Costa Rica, the Dominican Republic, El Salvador, Guatemala, Honduras, Mexico, Nicaragua and Panama, immediately urged members to strengthen controls at borders, ports and airports.
Following a meeting with producer and exporter associations, Ecuador's vice president, Otto Sonnenholzner, announced a US$18m government fund to fight against the disease and protect the country's 300,000ha of banana production.
The country has already launched an information campaign and mobilised teams to monitor farms for signs of the disease.
The two infected farms are Eva Norte in Riohacha and Don Marce, which supplies organic bananas to Dole. When contacted for comment, Dole referred Fruitnet to ICA, but they have yet to respond to our enquiries.
Colombia has 562,000ha of banana and plantain production, of which around 63,000ha are destined for the export market.