The banana industry must not repeat the mistakes of the past in its fight against TR4, warns Gert Kema
For the past decade, Panama Disease TR4 has cast a long shadow over the global banana business and Gert Kema of Wageningen University and Research, a leading authority on Panama Disease had a stark warning for delegates at the 2023 International Banana Congress: It is impossible to stop it from spreading. Much like Panama Disease Race 1, which wiped out Gros Michel in the 1950s, TR4 is here to stay and will continue to spread throughout the world, despite the industry's best efforts to contain it.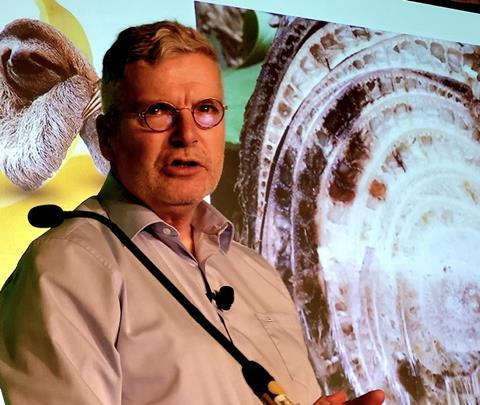 Originating in Indonesia, TR4 was for a long time considered to be an Asian problem. The world started to take notice when it was discovered in Mozambique and Jordan in 2013. Since then it has spread to 13 new countries, including three in Latin America. What we can conclude from this, said Kema, is that "prevention doesn't work".
In a presentation entitled Fusarium wilt of bananas: past, present and future, has the lesson been learned?, Kema set out the many different ways producers had tried to control Race 1, including flooding and bleaching the affected areas. None of them prevented the spread of Race 1 throughout the world.
"We're talking about a fungus that is extremely versatile – even if you stop growing bananas, the soil will still be contaminated as it is still present in the weeds, it's endemic," he said.
"Living with the disease is not a viable ­option as prevention strategies are so expensive. We have to tackle TR4 urgently and this will require significant investment. If you wait it's too late."
Kema urged the industry to take a more proactive approach to prevention. "Detection is crucial – we should be actively looking for suspect plants and eradicating them and to do this we need the right diagnostic tools."
Using the example of Peru, where TR4 is spreading rapidly, Kema said satellites are being used to map affected areas aerially and predict the trajectory of the disease by identifying suspect plans and acting punctually to eradicate them. "In my view we should be doing this in every country – even those where TR4 is not yet present," he said. "You can put all this data together and build a platform that can be used as a resource by the whole industry."
Sequencing different strains of TR4 found throughout the world can also provide useful information about how the disease is spread. The strain found in Peru, for example, is very close to the one found in many Asian countries but dissimilar to the strain discovered in Colombia – proving that the disease did not spread from Colombia to Peru, as has been suggested.
"There is still a major lack of awareness across the entire industry about this problem – I'm not just talking about small growers, but at every level. This is something we need to address," Kema said.
Despite the gloomy outlook, Kema insisted that he is optimistic about the future of bananas. "At every level there are opportunities to ensure that everyone is more aware about TR4. Proactive prevention is key. TR4 is here to stay and we have to do everything to make sure that it doesn't spread further," he told delegates.
Calling for more innovation to buy the sector more time until the arrival of varieties with resistance to TR4, Kema cited the example of a project at Wageningen University & Research to grow bananas in substrate as an example of how to make banana cultivation more sustainable.
The only long-term solution, however, is to develop new resistant varieties. The screening of all varieties grown throughout the world will provide useful information about which ones are less susceptible to TR4. But ultimately, Kema said the answer lies in Cavendish itself.
"We have the example right in front of our nose. Cavendish saved the banana industry once as it can be planted in any soil infected with Race 1 and it will be the benchmark in the development of new resistant varieties. We can improve Cavendish and we have the tools to do it."