Report details company's progress towards building a more resilient and sustainable cold chain
Lineage Logistics has released its first Sustainability Report setting out its efforts toward building a more sustainable, inclusive and ethical future. The theme for the inaugural report is 'Built for This', reflecting the company's goal of building a cleaner, more efficient cold chain ready to navigate future challenges facing the industry.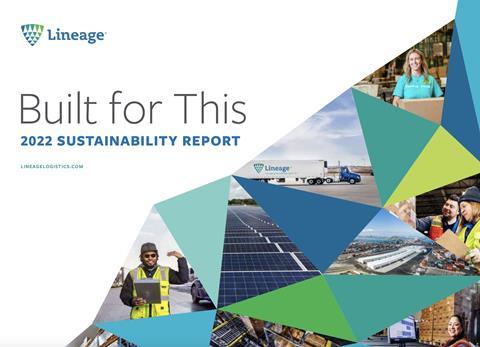 "We are thrilled to launch our first Sustainability Report, which not only demonstrates our efforts to bring the cold chain and industry forward on matters related to climate, inclusion and governance, but also proves our commitment to hold ourselves accountable as we articulate our long-term goals and plot the next era of our company's history," said Greg Lehmkuhl, president and CEO of Lineage.
"As evidenced in the report, Lineage has a proven track-record of building a culture of innovation, purpose and excellence. Looking back on this collective success, we're eager to maintain our momentum to tackle challenges ahead for our business, our communities and our planet."
Lineage said it has worked to strategically integrate its purpose to transform the global food supply chain to eliminate food waste by stewarding the environment, championing diversity, equity and inclusion (DE&I), and driving industry-leading innovation in the cold chain.
Among the achievements set out in the report are that Lineage is a signatory to the Climate Pledge, alongside more than 200 companies, pledging to achieve net zero carbon emissions by 2040 – 10 years ahead of the Paris Agreement.
The company also established approximately 108 MW of solar generating capacity on-site at its US facilities as of Q4 2022, making it the fifth largest corporate user of installed, onsite solar capacity in the country, according to the 2022 Solar Means Business Report published by the Solar Energy Industry Association.
In the field of Diversity, Equity and Inclusion, Lineage has created a roadmap to promote an inclusive workplace, and bolstered its workforce by recruiting competitive talent and prioritising the professional development of team members.
The company has also facilitated donations of over 2.7m lbs of food products from customers, issued almost US$3m in grants, and recorded over 5,000 volunteer hours via the Lineage Foundation for Good during its first year as a public charity.
Other milestones include the launch of the Lineage Hardship Fund to assist team members impacted by hardships through microgrants from the Lineage Foundation for Good. In 2022, the Lineage Hardship Fund provided over US$622,000 to help 152 Lineage team members and their families get back on their feet.