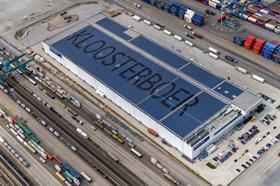 Lineage Logistics has completed its acquisition of Kloosterboer Group, the Netherlands-based, family-owned cold storage company.
According to Lineage, a leading global temperature-controlled industrial REIT and logistics solutions provider, the combination will create an enhanced facility network in key European markets, with a focus on sustainability and innovation within the temperature-controlled supply chain.
"We welcome the Kloosterboer team to the One Lineage family and are thrilled to unite with an organisation that has a nearly 100-year history of being entrepreneurial and customer centric,' said Harld Peters, senior vice-president for Europe at Lineage.
'We look forward to integrating their state-of-the-art facilities and diverse services so we can better serve our customers in Europe and around the world,' he added. 'It's also clear that we have cultural alignment with a shared focus on leading the industry in sustainability and innovation."
Sustainability leadership in the sector has been a hallmark for Kloosterboer, with five facilities recognised by BREEAM (Building Research Establishment Environmental Assessment Methodology) and the company's use of nearly 18,000 solar panels and four wind turbines reducing the equivalent CO2 consumption of more than 4,100 households.

Lineage highlighted how both companies were known as leaders in developing and operating the industry's most sophisticated fully automated temperature-controlled warehouses.
'These buildings are capable of handling large quantities of product with an exceptional level of accuracy while using fewer resources, particularly electricity,' the statement read. 'Combining capabilities in automation with Lineage's applied sciences knowhow will lead to new innovations in warehouse design that should yield even greater efficiencies in the supply chain, creating value and further reducing the environmental footprint for customers.'
Kloosterboer has 900 team members and 11 strategically located facilities in the Netherlands, France, Germany, Canada and South Africa, totalling 6.4m cubic metres of capacity and 790,000 pallet positions, with a commercial focus on port-based activities and highly-automated warehouse solutions.
The company also provides value-added services like freight forwarding, customs brokerage, juice blending, container handling, and intermodal transport.

Its European operations are based in Amsterdam, The Netherlands, with a network spanning Belgium, Denmark, Norway, Poland, Spain and UK.
'With Kloosterboer's facilities, Lineage will add France, Germany and South Africa to the list, and Kloosterboer facilities on the east coast of Canada will complement Lineage's existing operations in Montreal and Ontario.'