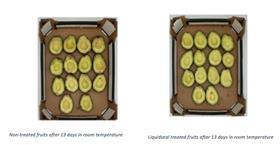 Liquidseal Fruits' post-harvest protective coating has shown positive results in trials with Total Exotics on organic avocados.
Mexican avocados were treated after arrival in the Netherlands and then stored in a cooler at room temperature.
The fruit was stored for two2 days at 6⁰C, after which it was moved to 10⁰C without forcing airflow. After three days in 10⁰C, the avocados were moved to a room with a temperature of 20⁰C to mimic the process from storage to retailer to supermarket.
The results – verified by Total Exotics' quality manager, Anneke Bouman, – showed that up day 12, the firmness of the fruit decreased slower than fruit not treated with Liquidseal. Fruit treated with the solution also took longer for the longer to show internal problems.
"At Total Exotics, various experiments with avocados showed that Liquidseal offered an extended shelf-life. Furthermore, it did not negatively influence the ripening process regardless whether ethylene was used in the ripening rooms or not," Bouman said.
Furthermore, since it is presumed that the product will not have a negative effect on the pressure in a later stage, it can also be applied in the country of origin.
"We can draw positive conclusions from these trials, and we want to look at future opportunities where avocados will be treated with Liquidseal at our suppliers from all parts of the world."
Liquidseal Fruit's chemical-free, post-harvest coating is applied to the non-edible peels of fruits and vegetables such as avocado, citrus, mango and papaya. It is also environmentally friendly, biodegradable and compostable.
The coating acts as a barrier-type packaging that provides protection or fruit during every step in the supply chain. This results in an extended shelf-life, maintained product quality and reduction of product loss during the process of post-harvest, transport, storage and sale.