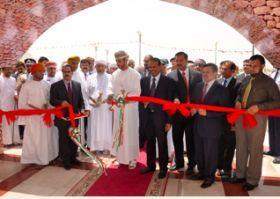 UAE-based hypermarket chain LuLu has announced plans to invest US$3bn in expanding in existing markets such as UAE, Saudi Arabia and India, as well as in new markets such as Sri Lanka, Malaysia, Egypt and Indonesia.
"We see that there's stability in the Sri Lankan market now, so it's the right time to invest there,' said product development manager Shamim Sainulabdeen. 'We are still at the initial stage, so I cannot give a timeline, but maybe, within a span of three years, I can see three or four stores in Sri Lanka."
The group has opened an office in Sri Lanka, while signing memoranda of understanding with partners in Malaysia and Indonesia to establish hypermarkets in these countries.
"We are projecting a halal factor there and these markets are very important for us since there are a lot of Asians, and we already know the food trends," said Sainulabdeen. "We'll start by observing the response, and if it is positive, we'll definitely go with more hypermarkets in this region."
Having already established a presence in India, the company is now planning up to 15 new outlets in Indian metropolitan cities during the next three years, according to Sainulabdeen.
The UAE nevertheless remains LuLu's largest market, where it has 60-plus stores. Now, says Sainulabdeen, the company intends to open 100-150 Xpress stores across the country.