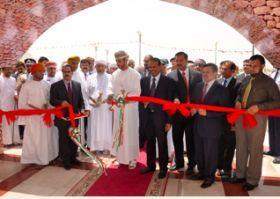 In mid-August, Abu Dhabi based retailer LuLu Hypermarkets opened a new store in Nizwa, in Oman's Ad Dakhiliyah region, according to the Oman Daily Observer.
The outlet, which was inaugurated by Sheikh Saad bin Mohammed al Saadi, Oman's minister of commerce and industry, has reportedly been designed to promote local products through the Origin Oman campaign.
The 200,000 sq ft store is LuLu's 10th in the country and 95th in the Middle East region and marks the retailer's aggressive expansion policy that sees it aiming for 100 stores by the end of 2011.
Managing director Yusuff Ali commented: "This growth has been impressive, considering that in a span of ten years, we have relentlessly pursued our dream of paving the path for LuLu to become a household name and have realised it with more than 10 stores in the Sultanate. We are indeed on track to meet our set targets."
The retailer, which currently dominates 32 per cent of the hypermarket sector in the Middle East, is set to open new stores in Egypt, Saudi Arabia, Oman and Bahrain in the coming months.
The managing director said that expansion plans had not been affected by the economic crisis, explaining that the group had already opened around 20 branches in 2009 and 2010 within and without the UAE.