The 40th edition of the Rimini-based event is "set to break records" according to organisers
This year's Macfrut, which takes place on 3-5 May at the Rimni Expo Centre in Italy, is "set to break records" as it marks its 40th edition.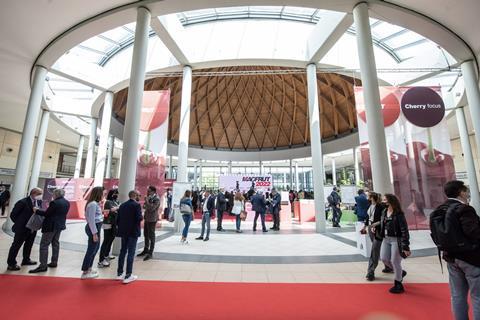 According to Cesena Fiera, the international trade fair will see 1,100 exhibitors across 35 per cent more exhibition space, with a larger number of professionals from abroad and more than 1,500 accredited international buyers.
The event will include themed exhibitions on current trends, a double test field featuring technical and technological innovations in the sector, and around 100 events hosted during the trade fair.
The spotlight will fall on fruit and vegetables, with the sector playing a key role in the Italian agri-food industry, valued at around €15bn with fresh and processed exports exceeding €10bn in 2022.
Organisers noted that the event was "experiencing a global boom", featuring an entire hall dedicated to South America.
This area will host new entries such as Mexico and El Salvador, along with Peru, Chile, Venezuela, Costa Rica, Brazil, Cuba, the Dominican Republic, and Colombia.
An entire hall will be dedicated to Africa, with some 19 countries present, while there will also be a national stand for Saudi Arabia and China will participate for the first time since the Covid outbreak.
Importers and global retail brands will also be attending, including India's Lulu' Hypermarket.
More than 1,500 accredited buyers have registered for the incoming programme for foreign buyers, with more than 5,000 meetings scheduled on the business matching platform, the organisers confirmed.
Macfrut will feature several themed areas with different content, each one co-ordinated by an expert.
These include International Blueberry Days, the Plant Nursery and Varietal Innovation Exhibition, the Spices & Herbs Global Expo, the Biosolutions International Event, the Red Planet and the Dynamic Area.