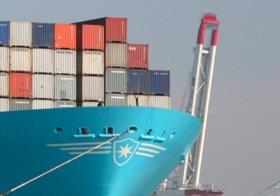 Maersk Line has announced that it is to bring in to force changes on its northern Europe-eastern Mediterranean (Euromed) service, which will take effect on 20 July 2009.
Changes to the rotation have been made to further improve the shipping group's northern Europe to Israel/Egypt product by increasing capacity, reducing transit times and expanding the direct port coverage, Maersk Line said.
As part of the overhaul, Gioia Tauro has been removed from the southbound rotation and Haifa added, with the former now added to the northbound rotation instead.
The revised rotation will be Felixstowe, Rotterdam, Bremerhaven, Alexandria, Port Said, Haifa, Ashdod, Goioia Tauro, Felixstowe, and will commence with the vessel Maersk Binton.
To complement the new Euromed rotation, Maersk Line is also set to introduce a new east-west Mediterranean feeder service to cater for Gioia Tauro-Alexandria volumes as well as other key corridors.
The rotation on this new service will be Algeciras, Gioia Tauro, Alexandria, Mersin, Izmir, Algeciras.