Logistics group sees some welcome stability in seafreight while airfreight remains "volatile"
Maersk has released a market update for Europe, covering shipping, ports, airfreight, inland transportation and e-delivery.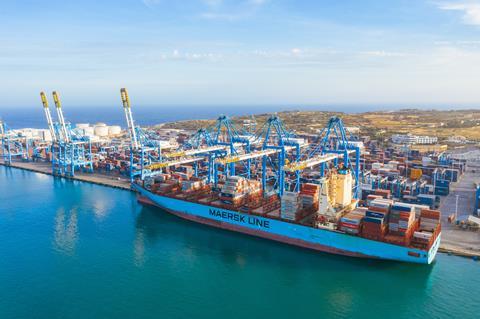 According to the group, recent weeks have brought "much-needed stability and resilience" across its global network, following several challenging months across Europe.
"Close cooperation with ports, combined with contingency planning and schedule changes have resulted in improved congestion levels, berth waiting times and port productivity across the region," Maersk stated.
"The significant improvement of our service delivery figures has put our reliability and service levels at the top of the industry," the group continued. "While schedule reliability continues to increase, we will continue to monitor bookings and follow the demand with positioning to ensure minimal impact to customers. Despite this, some concerns remain regarding yard density and longstanding containers."
Two rounds of strikes in the UK ports of Liverpool and Felixstowe had caused disruptions to schedules, but Maersk said its teams had established contingencies and revised schedules to maximise labour immediately after the strike.
A series of service adjustments have been activated on Asia-Europe trade in order to balance the supply and demand, it noted, which would help improve terminal and schedule recovery – the key barriers for global supply chains.
"October is typically where we see the start of the reefer export peak season, which lasts through to early in the following year," Maersk explained. "This year is no different, and we have focused on ensuring that the right levels of equipment and capacity are in place to support the peak for customers. In line with the improving operational situation in Europe, we look forward to supporting a strong peak season over the coming months."
Airfreight and inland transportation
The global airfreight market continued to be "fairly volatile", Maersk said, with volumes trending down but rates remaining higher than 2019 levels due to jet fuel costs, lack of passenger/belly capacity and the impact of the war in Ukraine.
"The future is uncertain as we move into the winter months," the logistics giant stated. "A European energy crisis is imminent according to experts, with the energy and chemical sectors set to be most affected. Russian and Ukrainian airspaces still remain closed and there are no signs on when this will change.
"Maersk will continue to monitor the situation and use its own controlled airfreight network to keep supply chains moving. Although improved ocean freight conditions have reduced air demand slightly, the need for a reliable alternative is expected to remain high across Europe during peak season."
Inland transportation across Europe continued to be pressured, Maersk noted, with strike action and cancellations causing disruption to rail services across the continent.
These issues are having a knock-on effect on an already stretched trucking industry, where the driver shortage and fuel price increase problems are ongoing.
"However, recent improvements to the ocean network have taken some strain away from inland operations, which were called upon to alleviate congestion at ports. Our teams will continue to assess the situation on the water, ready to procure additional landside transportation throughout Europe if required."
Cross Border Rail solutions are being developed in Europe via two main corridors: from Turkey to Northern Europe and an ad-hoc solution between Spain and Northern Europe.
Plus, at the end of October, a new, environmentally friendly rail product for reefer cargo from Valencia to London officially launches – easing supply chain bottlenecks and delivering fruits and vegetables for Spanish peak season.
"Sustainable rail solutions will continue to be a priority for Maersk and our customers moving forwards, so we will be analysing where we can open more long-haul rail products with a reduced carbon footprint across Europe in the coming months," the group added.