Logistics giant delivered a strong set of financial results last year with solid performances across all business sectors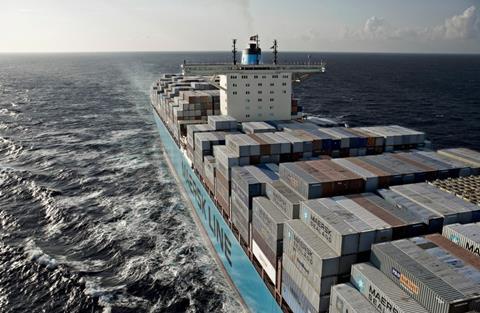 Maersk has said that the previous year proved to be an "exceptionally strong" one for the company, as it reported on the best financial result in its history.
The group's "unprecedented" financial results were driven by good performances across all facets of the business during the "abnormal market conditions" in the first half of 2022.
As congestions eased and declining consumer demand led to a significant de-stocking in all segments, the expected normalisation of the ocean market kicked in during the final stretch of year, Maersk noted.
Describing the result as "extraordinary" and in line with full-year guidance, Maersk revealed that revenue for the 12-month period jumped 32 per cent to US$81.5bn, while EBIT increased 57 per cent to US$30.9bn.
The company said it had accelerated its business transformation, expanded the integrated logistics capabilities through acquired companies like Pilot, Senator and LF Logistics, and organically grown logistics by more than 20 per cent.
It had also defined precise roadmaps to reach its commitment to decarbonise logistics across all transport modes, Maersk continued.
"2022 was remarkable in more than one way," said Maersk CEO Vincent Clerc. "While we report the best financial result in the history of the company, we have also taken the partnerships with our customers to a new level by supporting their supply chains end to end during highly disruptive times.
"Our commitment to provide visibility and truly integrated logistics solutions continue to resonate strongly with our customers for whom it is a strategic imperative to make their supply chains more resilient and sustainable," he explained.
"As we enter a year with challenging macro-outlook and new types of uncertainties for our customers, we are determined to speed up our business transformation and increase our operational excellence to seize the unique opportunities in front of us."
The group's ocean segment delivered the strongest result on record due to the high freight rates and strong demand, particularly in the first half of the year, with revenue up 33 per cent.
In logistics and services, revenue increased by 47 per cent, while in terminals EBIT adjusted for the Russia exit reached a record of US$1.2bn, supported by solid volumes growth and high congestion related storage income.
In its 2023 guidance, Maersk said that it expected an underlying EBITDA of US$8bn-US$11bn, an underlying EBIT of US$2bn-US$5bn, and free cash flow (FCF) of at least US$2bn.