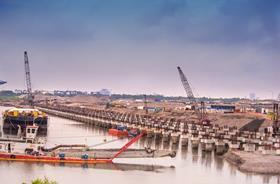 Maersk Line saw a 21 per cent jump in cargo volumes in Mexico between January and October 2016 compared with the year-earlier period.
Bananas and avocados were among the agricultural products fuelling a surge in trade in refrigerated containers.
Sitting at the epicentre of major global trade routes, Mexico is the gateway to and from the Americas. The country is expected to be one of the main beneficiaries of the newly expanded Panama Canal and its infrastructure is undergoing a major transformation in order to enable it to benefit from increasing trade.
This includes APM Terminal's construction of a US$900m container terminal at the Port of Lázaro Cárdenas, which is due for completion in the second quarter of 2017 and will have an initial annual capacity of 1.2m TEUs.
Once open, it will be Latin America's first semi-automated intermodal terminal, enabling bigger ships to dock at the port.