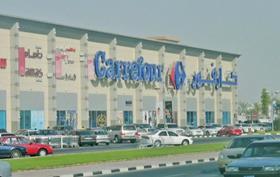 Dubai-based mall operator and developer Majid Al Futtaim, which is the exclusive franchisee for Carrefour in 37 markets across the Middle East, Africa and Asia, has signed up for a US$1.5bn sustainability-linked loan (SLL), according to Gulf News.
The aim of the SLL is reportedly to support environmentally and socially sustainable economic activity, including meeting targets related to gender diversity in the company's workforce.
The agreement sets a target of 30 per cent of board positions and senior management roles that must be filled by women. This aligns with the aims of the 30 per cent club, an international campaign to boost gender diversity in boardrooms and in top management.
"The signing of our first sustainability-linked loan comes as a result of our long-term strategic targets, including the production of more energy and water than we consume, reaching a net positive business model by 2040," said Ziad Chalhoub, Chief Financial Officer, Majid Al Futtaim Holding. "While a company's profitability is important, how you contribute to sustainability is becoming more crucial and a filter for investors to decide how much and where they will invest."
One aim of the five-year SLL is to have all the group's malls certified LEED Gold or better. LEED, or 'Leadership in Energy and Environmental Design, is the most widely used green building rating system in the world.
Majid Al Futtaim's hotels were the region's first to receive LEED Platinum certification across the group's 13-hotel portfolio earlier this year.
"We are delighted to support Majid Al Futtaim in their landmark debut sustainability-linked loan by acting as sole sustainability coordinator," said Mohamed Salama, Regional Head of Client Coverage MENA, Standard Chartered Bank. "Having structured the first-ever loan in the Middle East to incorporate sustainability-linked pricing in 2018, we are proud to have brought another pioneering facility to the market."