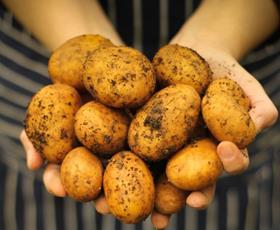 Marks & Spencer (M&S) is taking advantage of Olympics fever in the UK with the summer launch of a loose-skinned new potato variety called Athlete.
The first small volumes of the new variety are set to be harvested this month and will be exclusively available in M&S stores throughout the UK, in 750g and 1kg packs, from June to late August.
In this, its first season, the crop is being cultivated by Mark Rowe in Cornwall, Matt Gregory in Suffolk and John Williams in Norfolk to provide continuity of supply through the summer.
Louisa Read, vegetable buyer at M&S, commented: "Marks & Spencer is dedicated to offering exclusive products to their customers, and Athlete potatoes not only tick this box, they taste great and are a healthy source of carbohydrate-based energy. With the summer bursting at the seams with sporting events, we anticipate these aptly named potatoes will be very popular."
UK-based Manor Fresh has reportedly secured exclusivity on the variety, which is bred by Agrico UK.