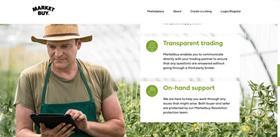 Marketbuy.net, a new online fresh produce trading platform, is offering reduced fees to the international grower community to help relieve supply problems caused by the coronavirus pandemic.
Company founder James Mash says the proposal is designed to help fresh produce producers around the world use the platform to quickly find reputable buyers during this challenging and unprecedented period for the global industry.
"We are living in very surreal times right now," he tells Fruitnet. "It is time to hold hands and push forward together. We want to help growers move their product more easily to the retail sector and to those caterers in the UK and elsewhere who have now gone into the home-delivery service now that restaurants have had to shut down.
"I think the initiatives taken by these caterers and the industry in general is incredible and of course helps people stay at home thus slowing down the spread of the virus. I believe it will also help the supermarkets by taking some pressure off them."
Mash announced Marketbuy is reducing its commission to growers to 3 per cent with immediate effect. This drop in fees will "make a sizeable difference to producers and buyers alike keeping costs and waste down", he says.
"What this platform can do is expand what traders or retailers are looking for, so speed up the supply chain process. For example, instead of doing a google search for avocado producers, you can use Marketbuy to find the product and instantly do some deals using secure escrow payments," Mash explains.
"Supermarkets in the UK are under pressure to fill shelves at the moment, so they are going to be looking for different sourcing avenues. Through Marketbuy, they can instantly find the product they are looking for and talk directly to the people that grow it.
"We are a community and we are all in this together. We want people to be using this platform so supply issues can be overcome, and to prevent waste in the industry," Mash continues.
"The industry is in a precarious situation due to coronavirus. It's a global problem. It's not slowing down, it's escalating day by day. But what is so fabulous about the fresh produce industry is how versatile it is, and how companies come together at times of crisis. It makes me so proud to be in this industry."
Set up in November 2019, UK-based Marketbuy is brainchild of James Mash, a sixth-generation UK fresh produce wholesale trader.
The platform currently has around 350 registered growers (from South Africa, Jamaica, India, Italy, Spain, Belgium, South America), and some 300 international buyers, including retailers, manufacturers, wholesalers and foodservice.
For more information visit www.marketbuy.net or contact james@marketbuy.net