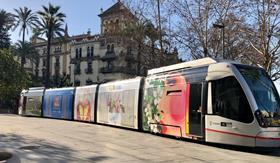 Spring has sprung in Europe, and so too has the third phase of Italian apple brand Marlene's marketing campaign, which also sees the market debut of two varieties, RedPop and Giga.
Officially unveiled last year, the two new apple types are seen as the perfect products to keep the brand's premium offer going during the second half of the Italian season.
"Just as springtime is the season of awakening among the rows of our apple orchards, our marketing activities also blossom with many different initiatives," comments Hannes Tauber, marketing manager at brand owner Vog.
The media campaign for the so-called Daughter of the Alps continues with out-of-home channels, adverts in national and international magazines, and digital activities – including posts and stories on social media channels and YouTube.
"A spring version of our new TV commercial, which made its debut in autumn at the Venice International Film Festival, will also be on air, with a special reference to our organic production," Tauber adds.
Spring theme
For two weeks until 27 March, Marlene apples sold in Italy, Spain, Malta and Cyprus will carry a new spring-themed label created by artists who took part in a competition to celebrate the brand's 25th anniversary.
Their artworks will also be seen again on trams, this time not only in Milan and Rome, but in several other major European cities: Barcelona and Seville in Spain, Oslo in Norway, and Stockholm in Sweden.
Four-packs of Marlene apples sold in Italy and Spain have been customised with peelable labels that feature lots of useful information and a QR code that allows you to re-watch the TV commercial.
Spring is a very important time for Vog's member growers. Bees start to pollinate the apple blossom, and preparations are made to protect delicate buds from frost.
Marlene's social media channels have been handed the task to narrate these "unique and crucial moments", Tauber reveals.