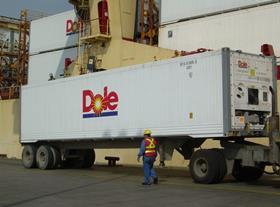 Maersk Container Industry (MCI) has announced the development of a reefer sofware solution that its says can halve energy consumption while still preserving fresh produce quality during transport.
StarConomy reefer control software has been designed by MCI, in conjunction with fruit multinational Dole, solving a technological challenge 'long thought impossible', according to the group.
The software supports reefer container operators by allowing them to maximise the value of their refrigerated cargoes in MCI's Star Cool units, with the ultimate aim of reducing operating costs and ultimately meeting the industry's sustainability objectives to reduce CO2 emissions.
If a typical fruit multinational operating their own fleet of four vessels with 500 reefers each were to upgrade to the software, the annual financial savings on a single route, such as Ecuador to the UK, would be over US$2m, the group explained.
For a container line with a six-vessel service from Ecuador to Russia, also with 500 plugs, the annual savings would be an estimated US$3.2m, MCI added.
StarConomy can be installed on all new Star Cool units while a simple software update can make it available on all existing Star Cool units installed in operations of more than 40 operators – MCI conducted the field test on Dole's weekly South America to Europe route.
'Dole has a strong focus on corporate responsibility and sustainability,' said Karina Rodriguez, equipment manager, Dole. 'This is reflected in our approach to water management, soil conservation and our carbon footprint, for example. These commitments also extend to our cold chain.
'When it comes to reefer container transport, we preserve and transport the fruit safely using as little energy as possible, thus reducing our carbon footprint,' Rodriguez continued. 'To take the next leap in this field, Dole worked with Star Cool in developing and field-testing the innovative StarConomy software that we are now using in all Star Cool reefers in our global operations.'
With the new software, MCI's R&D team in Denmark answered the protracted challenge of maintaining the same precise temperature control inside the reefer while matching the airflow to the varying requirements of specific cargoes. StarConomy's revolutionary feature is its ability to control both compressor and fan speed at the same time.

'The StarConomy software begins by rapidly cooling the produce with the fans at full speed,' noted Morten Nylykke, general manager, refrigeration technology at MCI. 'When the temperature set point is reached, fan speed is reduced and energy optimisation can begin. StarConomy has proved to meet the needs of Dole, a long term customer, and we are looking forward to offering this new software to our entire Star Cool customer base.'
Even higher energy reductions are achieved if the produce is pre-cooled prior to loading. By carefully balancing compressor and fan speed, StarConomy software accurately matches air circulation to cooling demand, ensuring an ideal environment for produce, MCI said.