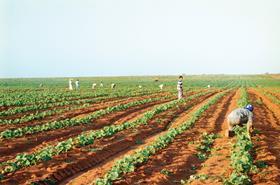 Central America's leading melon and watermelon producing countries are calling for a more equitable distribution of costs among all actors in the value chain as they face unprecedented pressure from rising production costs.
In a joint statement, melon and watermelon producers and exporters in Guatemala, Honduras, Costa Rica and Panama warn that they are "facing one of the greatest risks and threats to the sustainability of the business as it faces the highest percentage increase in the cost of essential supplies and raw materials in its history as a result of the collateral effects of the Covid-19 pandemic on global production, supply and logistics chains."
It comes just weeks after Latin America's leading banana producing countries issued a similar statement denouncing the unfair cost burden they are facing.
It points out that the price of Kraft paper, the raw material used for the manufacture of cardboard boxes, has risen by 40-50 per cent in the second and third quarter of 2021, while the cost of Modified Atmosphere Packaging bags, plastic mulch, irrigation drip tape and fertilisers have also increased significantly.
"As if this situation was not serious enough, the global logistics crisis has caused a shortage of spaces and containers that consequently has led to an unprecedented increase in the logistics costs (rate per 40-foot container) of importing raw materials and exporting our products," the statement continues.
If, as expected, these conditions continue until the end of 2022, companies could go out of business, the statement warns.
The signatories also warn that the hike in labour costs resulting from the implementation of safety measures during the pandemic are putting further pressure on growers and exporters.
"Today, melons and watermelons are already highly expensive to produce due to the high standards and certifications required to export to global markets.
"All these [factors], together with the increases described above, have a direct negative impact on the competitiveness and economic sustainability of the melon and watermelon industry, which is already suffering strong effects of climate change, forcing many producers to close operations," the statement says.
It concludes by inviting all the members of the value chain to find alternatives and solutions to help mitigate the financial impact that growers and exporters are expected to bear in the coming export campaign, "consequently ensuring the sustainability of our business in the long term".
Central America is one of the main suppliers of melons and watermelons to Europe and North America during the winter months. More than 60,000 families depend on the industry directly and a further 200,000 indirectly.